A discussion about the consequences of the pandemic for mechanical engineering in southwest Germany
Interview with Frank Schlupp, managing director of keytech Süd GmbH, on September 8, 2020, in Sulz am Neckar.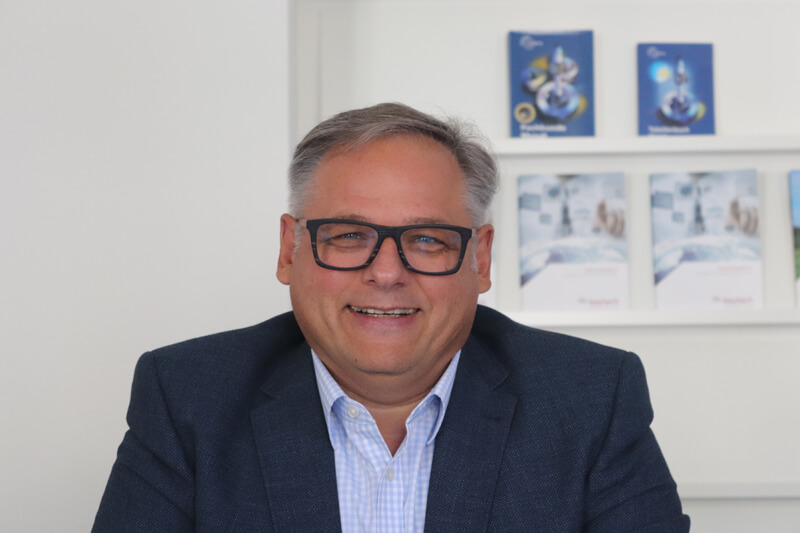 Frank Schlupp (photos Sendler) is managing director of the PLM provider keytech Süd. The meeting took place in the beautiful station building in Sulz, where the company was founded in October 2011 and where it has recently been reestablished. Frank Schlupp had sensed the right wind at that time, which would drive the topics PLM and process automation also and especially in the strong medium-sized industry in the Black Forest and in the region between Stuttgart and Lake Constance. This is where the automotive suppliers and countless special-purpose machine manufacturers are located, but also where – around Tuttlingen, for example – a veritable world center of medical technology has settled.
Ulrich Sendler: Mr. Schlupp, what consequences does the pandemic have for small and medium-sized companies in industry?
Frank Schlupp: One change was tangible very quickly: If there are no more trade fairs, in-house exhibitions and conferences, there will be no way to present what we have to offer to customers and interested parties. Here it was immediately apparent that something new had to be created, a new type of event. That had an enormous dynamic. The second: home office. The term has been around for a long time, but few companies have brought it to life. Now the home office was suddenly there, with us and with our customers. And suddenly the process gaps were obvious that could otherwise be concealed with a few questions to the office neighbors. If the office is empty, that is not possible. The need to catch up became clear.
Ulrich Sendler: What were and are the consequences for your business?
Frank Schlupp: It was and still is a poking in the fog. Nobody knows exactly what is coming and how it will continue. So, everyone is making sure that they do not jeopardize their liquidity, and they're driving on sight. Projects were and are being postponed, but not stopped or cancelled. Others use the time in which less is developed and produced for things they know are necessary and which they want to afford anyway: Process improvement and harmonization of existing software islands are probably the most important issues. In this respect, we have not had any economic problems so far. Business is continuing, some things are postponed, others are more intensive and faster. Our product development has rather been accelerated.
Although we have announced short-time work to be able to react at short notice, we have practically not used it yet. For 4 weeks two employees worked short time because there was less work in their area. But in sales, development, and support there was no short-time work at all. keytech South has 10 employees, the whole keytech group has over 80. We have a uniform home office regulation and a good hygiene concept in the group. Everything has worked well.
Ulrich Sendler: Are the customers more reserved or more open for the digital transformation?
Frank Schlupp: I do not see a real push yet. The project postponements are rather negative. Companies were already on the way to digitalizing PLM processes before the pandemic. What is more now, communication is changing when designers work from home. They need information from the PLM department more urgently because they cannot ask anyone else briefly.
Ulrich Sendler: Has the attitude towards the cloud changed?
Frank Schlupp: Oh, that is a very exciting topic, the cloud and medium-sized businesses. Here in the region we find the whole range of possible positions. Basically, companies are rather conservative. Not because of the new technology, but because of where the data is stored. Where is my drawing, my engineering work? There are leading companies that still say: My documents are in my house!
Decentralized workstations like in home office are of course pushing the acceptance of the cloud. Otherwise, not everyone can work on the same object from everywhere. The Cloud will come. But we must take our customers' conservative attitude seriously. Their treasures, their engineering expertise, their patents shouldn't be lying around somewhere. Many are not yet ready to say that they will go completely into the cloud. Some of them are already ready for a part of it: Standard parts and purchased parts, for example, can go into the cloud. And some of them also allow data from products for customers. But everything that is still in development and in which the company's expertise is contained should remain in-house for the time being.
This is precisely why PLM is more than ever in demand, namely for the structured management of data in-house. The metadata can be in the cloud, but the data of the parts themselves only locally. We are currently testing this hybrid type of cloud with some customers. Fast access to master data and metadata, and security for their treasures at the same time. As a Microsoft Gold Partner, we use Microsoft Azure as our cloud infrastructure.
Ulrich Sendler: Does this also change your own offering?
Frank Schlupp: We have established a cloud roadmap, but we are also dependent on the CAD providers whose systems our customers use. Currently, these are mainly SolidWorks, Inventor, Solid Edge, and for E-CAD Eplan and E3. Almost all of them have these systems locally on the workstation. Then keytech must also be installed locally. But also, for CAD, there is no doubt that the trend is towards the cloud. Onshape, for example, only works in the cloud. SolidWorks has presented something similar, as has Inventor. We are preparing for this.
Our roadmap envisages moving the database to the cloud as a first step, and the file server as a second step. This is possible with small parts, but with large machines it is not yet realistic because of the performance. But the future will bring us solutions, whether cloud or virtual desktop integration. The bandwidths are getting better and better, 5G is coming. In the next few years, we will have the first solutions at our customers.
Ulrich Sendler: What has changed in your own IT offering for industry? Are there new tools, new cloud services? Is the business model changing?
Frank Schlupp: In the planning stage, we have a web client for office users with complete access to keytech. In the CAD area, it depends very much on what the providers do. If CAD runs on a web client, we will act accordingly with PLM. Today we don't have a single customer who hosts his CAD in the cloud, everything is installed locally. Customers are not yet asking us for a solution for the day after tomorrow. But we are developing it.
The current business model is still the classic software license and a percentage of it as a service. But we are working on a future model to see more of the benefits and added value than just owning software. I am thinking of something like Software as a Service.
This is where new keytech solutions announce themselves: First, the keytech Notification Server, which allows the user to subscribe to articles or documents for the smartphone or via email. If something changes, he will be informed about it and does not have to ask.
The second is called keytech Insight: Every design engineer should have basic PLM functions available in his authoring system. What about the reuse of a part? Who is currently editing what on a specific assembly? Which material is used? What is the inventory? Such questions are answered by apps that can be called up in CAD. For SolidWorks and Inventor, we developed this in a first step. In the next step, data such as master data or document information can be entered into keytech. PLM functionality is migrating via web services into the design system.
The third module is keytech Search. It is a web-based search client for all information in the PLM system. With the appropriate access rights, the engineer or project member can search, find, print, and save information.
Ulrich Sendler: Do you have to lower your prices?
Frank Schlupp: No. A product has a value. It does not change because of a crisis. Trust is lost through discounts and price wars. We must provide a service. Because the service is needed, it is paid for. We are at eye level with our customers. For most of them we are the right people because we are flexible and fast, and because we understand them and know their way of working.
Ulrich Sendler: Were there any redundancies or short-time work?
Frank Schlupp: Short-time work only in the mentioned exception. There were no redundancies. On the contrary, we are looking for salespeople and project managers, for example, and there is still a shortage of skilled personnel in our region. We are growing slowly, but we are growing. We also train apprentices. We use, for example, the IHK, where you can do a classic apprenticeship in information technology, or the dual university of Stuttgart and its Horb branch. Students spend three months at school and three months at our company.
Ulrich Sendler: What are the three most important consequences of the pandemic, Mr. Schlupp?
Frank Schlupp: First, process digitalization and automation are experiencing a renaissance. A lot of things were still manual and could therefore not be automated. But for automation you must model the processes. We prefer the BPMN standard, i.e. Business Process Model and Notation. It has long been standard in insurance companies, banks, and the aviation industry, but now it is also becoming an issue for medium-sized mechanical engineering companies.
The second consequence concerns the possibilities of presentation and communication with customers. Many trade fairs will no longer take place at all. Virtual platforms are experiencing a boom. We have developed the keydays studio for this. It is a new format designed with TV professionals, in which we have already broadcast two programs on YouTube. With the possibility of interaction for customers. For this format, customers were personally contacted and informed by newsletter. The customers were enthusiastic.
Third, I would like to say that after home office comes "Work Everywhere". The location no longer plays a major role in certain activities. In the future, it must be irrelevant whether someone does their job at home, in the office or on the train. The location is becoming less and less important for data availability and for the result.