At the SPS in Nuremberg, the companies of the Friedhelm Loh Group want to show how the optimization of processes across the entire value chain increases efficiency and productivity while helping to master the energy transition. Through the digital networking of hardware and software in shared data spaces. Among other things, using the example of the Smart Factory from Rittal and a practical example of track and trace from Porsche and Schuler.
As enablers of smart production, the four companies show how automation engineering, products and manufacturing processes can be effectively linked via digital twins.
This not only makes production more transparent and efficient. It also helps to optimize energy flows. This is already a critical success factor for industrial companies that need to keep an eye on availability and costs.
In this way, the energy transition acts as an accelerator for fundamental changes in industry. At Rittal, this is realized with the cloud-native ONCITE Digital Production System (DPS) from German Edge Cloud (GEC).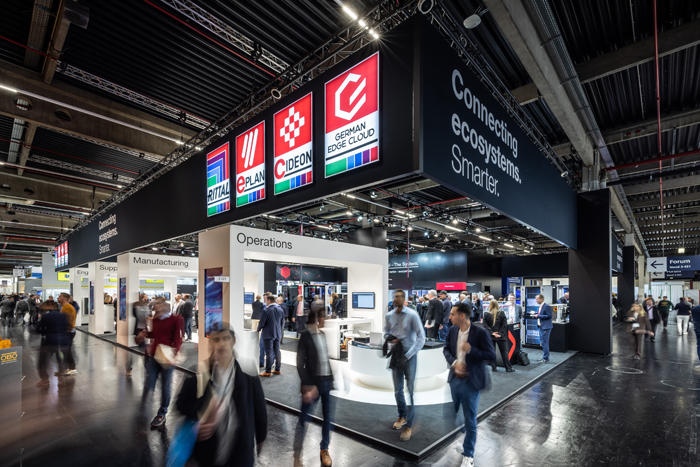 The Smart Press Shop in Halle an der Saale is a joint venture between Porsche and Schuler. The Schuler Digital Suite with Track and Trace is in use there. This Intrafactory Track&Trace software application is based on the Catena-X-certified ONCITE DPS. This forms the basis for using data for internal factory process and quality optimization via the Catena-X operator platform Cofinity-X in the future. With correlation analyses in the painting and final assembly lines, scrap can be further minimized. In this way, a secure data space becomes the basis for new value creation.
With a new type of robot for control cabinet wiring and with connected exhibits to neighboring booths, Rittal and Eplan will demonstrate across company boundaries how a Rittal Wire Terminal WT C fully automatic machine assembles wires live on the stand and shoots them to remote workstations using compressed air with a prototype wire handling system. A robot prototype from Rittal Automation Systems then wires control components there fully automatically. At neighboring stands of partner companies, the wires are further processed at Rittal workstations, digitally supported by Eplan Smart Wiring.
Markus Asch (Photo Sendler)
The optimization of processes is also intended to advance the energy turnaround and the industry, which is under great pressure. There is an urgent need for more speed in the expansion of infrastructure in order to meet the industry's requirements for the location.
"Modularization, standardization and data consistency are principles of action for us," explains Markus Asch, CEO Rittal International and Rittal Software Systems: " We must leverage the potential that lies in the optimization and industrialization of process chains. Integrated hardware and software solutions accelerate the expansion of infrastructure – from energy generation and storage to grid expansion and sector coupling to the transformer station or the charging park for e-mobiles. The efficiency gain reduces costs, and the data opens up further possible uses in operation as a plant twin."