Deutsche Messe CEO Jochen Köckler at the close of this year's industrial trade fair: "Over the five days, the 4,000 exhibitors here met around 130,000 visitors from all over the world." Compared to last year's 75,000 people, that's at least almost double. But compared to the 200,000 visitors from before Corona, still meager. Quite a few halls were not occupied at all, in others there was still plenty of space.
As in 2022, an additional 15,000 attendees were counted at digital events. Some exhibitors expressed the suspicion that it was perhaps also this so-called hybrid offering that slowed down a real take-off this year. If the boss knows you can also get important information on the screen, the thumbs for the trip to Hanover may be down. But face-to-face interaction is what the show is all about.
Some long-standing exhibitors of distinction, such as Hanover-based Aucotec or ABB and its numerous partners, have turned their backs on the fair. Probably more for reasons of principle. The exhibitors present, however, had full stands from the very first day and met visitors with plenty of need for discussion. The discussion about the pros and cons of such large-scale events continues. I will publish interviews with some companies on this subject in due course.
Industry takes on a driving role for innovation
If I'm not mistaken, this trade show was also an expression of an important change with regard to innovation and digitalization. Whereas for around 30 years it was primarily the IT providers who fueled industrial innovation with ever new software solutions, this year I encountered new products and services almost everywhere that were primarily based on in-house development and, above all, also on in-house software. And where IT vendors showed great things, the focus was on their customers' processes and innovations. A few examples of many: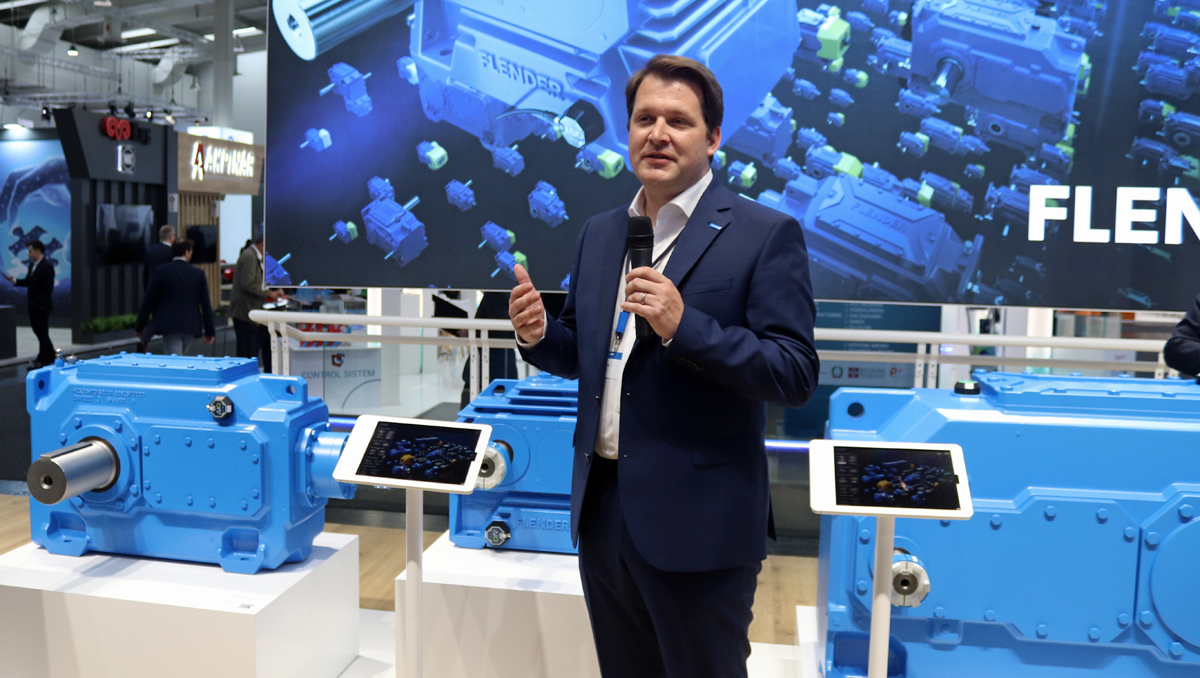 Project manager Dr. Jan Reimann presenting Flender One (Photo Sendler)
Over the decades, the gearboxes made by Flender International, a manufacturer based in Bocholt, Germany, have become something of an industry standard. Now, Managing Director Andreas Evertz presented Flender One, a platform that configures custom-fit gearbox solutions right off the bat. Highly individual, each gearbox different, and yet as fast as in series production. The software behind the configuration solution, which delivers the composition optimally tailored to each customer's needs from thousands of components, is an in-house development. And of course, further development of the basic elements of the transmission will lead to additional configuration options in the future.
Weidmüller, the Detmold-based supplier known for electrical connection technology, has had its own software department for several years, now with around 250 specialists from the Automation Products and Solutions Division in Paderborn at Zukunftsmeile. The latest offering: easyConnect, a cloud-based service with various software solutions that promise industrial companies a very simple way to connect their machines, use and analyze the data generated, and control and maintain the devices over their entire life cycle. Industrial IoT and other digital services as in-house development.
Phoenix Contact is currently focusing its activities on the path to the "All Electric Society". There was a detailed interview on this in KEM as recently as April. The focus here is on very specific steps being taken by customers in the current massive expansion and conversion of their infrastructures for the distribution and storage of decentrally generated, renewable energy and electrification of all sectors. At the booth, there was a special area dedicated entirely to the topic of efficiency in switchgear cabinet construction, an efficient process chain from design to production to operation of electrical switchgear cabinets. With its own software to generate immediate benefits for the customer from the digital data of the processes. The enormous number of visitors at all the individual stations showed how great the need is for greater efficiency in this area in particular.
New formation of the providers of industrial IT?
Siemens Digital Industries Software held the international press conference for the second time in Hall 9 at its own booth, right next to the solutions on display. Cedrik Neike focused on the strategic partnership with the customer FREYR Battery.
A wide range of solutions from the Xcelerator portfolio with Product Lifecycle Management (PLM), Manufacturing Execution Systems (MES), Industrial Edge Computing and tools for IT/OT connectivity will be used, among other things, in the construction of two gigafactories for battery production in Norway and the USA, he said.
Siemens is currently marketing the comprehensive IT portfolio under the Industrial Operations X banner.
Cedrik Neike (right), CEO of Siemens Digital Industries Software and member of the Siemens AG Managing Board, introduces Tom Einar Jensen, co-founder and CEO of Freyr Battery. (Photo Sendler)
Tom Einar Jensen, co-founder and CEO of Freyr, called Siemens' "automation and digitalization expertise combined with the unique capabilities of AWS and Nvidia" a foundational step in quickly leveraging "AI or digitally enhanced electrochemical cell design and manufacturing processes," which he identifies as "the next frontier in battery production."
In addition to the partnership with Freyr, Siemens presented Simatic S7 1500V, the first virtual machine controller, also part of Industrial Operations X. Siemens' strength is the breadth of hardware and software products now offered under one roof for all industrial core processes. And the fact that Siemens itself is an industrial company that also uses all these products in-house.
Well-attended joint stand of the Friedhelm Loh Group (Photo Sendler)
At the joint stand of Rittal, Eplan, Cideon and German Edge Cloud, visitors and partners were able to see under the motto "Connecting ecosystems. Smarter", not only live that the ONCITE Digital Production System presented last year has proven itself in practice, for example in Rittal's Smart Factory showcase plant in Haiger, but also provided strong impetus for the development of further cloud-based services based on open standards. Visitors were able to follow the entire process chain at the stand, from product design to production planning and production, but at the same time they were also able to go into depth at each node of the chain.
Who would have thought a few years ago that the Friedhelm Loh Group would become a central player not only in terms of automation of control cabinet construction and data centers, but also in terms of cloud-based industrial software?
Conclusion:
My summary of this year's industrial show: Whether provider of standard software or cloud service, whether machine builder or provider of electrics/electronics, the efficient digital automation of industrial processes, their sustainable electrification and the use of open standards such as Linux and Kubernetes as well as artificial intelligence were the godfathers of successful trade show appearances almost everywhere. Composable software is catching on, even without being talked about in a big way.