The PLM and CAx service and solution provider ECS in Neumarkt, Germany, offers a new starter package based on ECS Connect for the integration of Teamcenter and SAP. According to ECS, this enables users who have the PLM and ERP software in use to realize a bi-directional exchange of their parts data and bills of materials in an average of three project weeks. As a separate service, decoupled from the update and release cycles of Teamcenter and SAP, and as needed in the cloud.

The data from order processing and engineering should not only be continuously up to date available, but also easily exchangeable between the large systems. Many – especially larger – companies have either built their own solutions for this purpose or adapted such solutions from their software providers.
Such integrations are usually costly to keep up to date and require good knowledge of the systems involved. ECS now goes one step further. The own integration platform ECS Connect has a REST API (Representational State Transfer), which allows a standardized data exchange for most systems today. (Image ECS)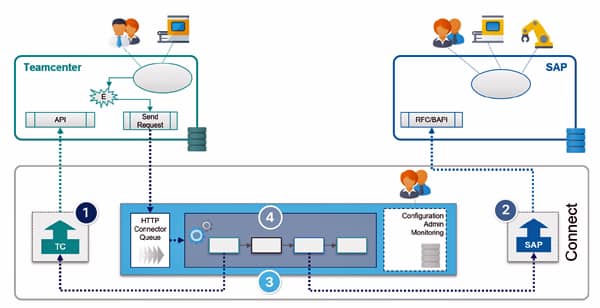 The new starter package consists of all services required for the initial integration, the integration platform ECS Connect as well as the latest generation of ECS system adapters for Teamcenter and SAP. The Connect client has been enhanced for easy administration and configuration without programming and its user interface has been optimized. All components of the solution are cloud-enabled. The package includes one year of comprehensive maintenance.
Beyond parts and BOMs, ECS offers further exchange scenarios: the transfer of manufacturing documents; the exchange of extended plant and manufacturing information; classification in SAP based on Teamcenter; synchronizations in the context of change management between both systems.
Enrico Hahn, Director Solutions Business at ECS, explains: "Nowadays, an integration must – in a double sense – simply work. It has to run performantly and reliably, but at the same time it has to be easy to administer and customize." To ensure this, ECS's experienced consultants oversee an integration project from planning through setup and configuration to handover. As part of the starter package, they install and configure the solution for the target system environment, starting with the two standard exchange scenarios "parts transfer" and "bill of materials transfer". Within just a few weeks, these basic functionalities are already productively available to the companies.
ECS also provides the necessary know-how transfer so that the project participants can operate and adapt the solution independently after go-live. The modular approach of the solution also enables a step-by-step expansion and a fast ROI.