Dr.-Ing. Dietmar Trippner is known to many people in industry, especially in the field of engineering and the IT used in it. For many years at BMW, from 2004 to 2014 in the upper management, he was one of the initiators and founders of ProSTEP GmbH and the ProSTEP Association in the nineties. Since 2014, he has been the managing owner of the consultancy dreiconsult. Now he has packed the experience he has gained over many years of professional activity with the necessities and consequences of strategic thinking and action, but also their absence, into a handy, easy-to-understand book for practical use, which is also a guide to action and methods. The following review is by Prof. Dr. Siegfried Seibert, Darmstadt University of Applied Sciences, December 2021.
Dietmar Trippner: The 1×1 of Strategy. Know-how and methods for people who want to make a difference. 203 pp. Haufe 2021. ISBN-13: 978-3648157473
By Prof. Dr. Siegfried Seibert
University graduates in Germany receive a top-class education in their field. However, they are usually given only a few pointers or methods for being successful in their professional activities and on the market. Dietmar Trippner's book "Das 1×1 der Strategie" (The 1×1 of Strategy) aims to fill this gap. Also on the book market hardly adequate offers are to be found in addition so far. Due to the professional background of the author, the book is mainly aimed at engineers, scientists and technicians in medium-sized and larger companies. However, it is generally interesting for all people "who want to make a difference," as the subtitle says. Trippner himself made a difference for many years as a manager at BMW, and you can feel the experience he gained there when reading the book, without foregoing a sound technical foundation.
The book starts with the question of what constitutes a successful strategy and why it is important. In the main part of the book, a "strategy tableau" is then laid out, consisting of seven basic elements. The focus is on strategically oriented thinking and action, which ensures a high level of effectiveness in day-to-day work.
For this to succeed, a clear vision and goal orientation, careful collection and evaluation of information, a systematic approach, consideration of available resources and a well thought-out time sequence are necessary. Thinking through and working through the issues involved also require a good methodology. For this purpose, Trippner spreads out a toolbox of 20 methods, from time management methods, GAP analysis, Pareto method, utility analysis, risk management, stakeholder analysis to SWOT analysis. Graduates of business-related subjects are usually familiar with such methods, but they are equally useful for the professional success of other disciplines.
For all principles and method modules of his strategy tableau, the author shows in clear and easy-to-understand sections their mode of operation, history of development, important questions to be considered and many examples. Towards the end of the book, the application of the principles and methods is again demonstrated by means of several interrelated case studies, the positive negotiation of a salary increase, the selection of a new IT system, the reorganization of an operational department, and the formulation of a corporate strategy. These examples address – with increasing complexity – typical challenges that many managers face again and again.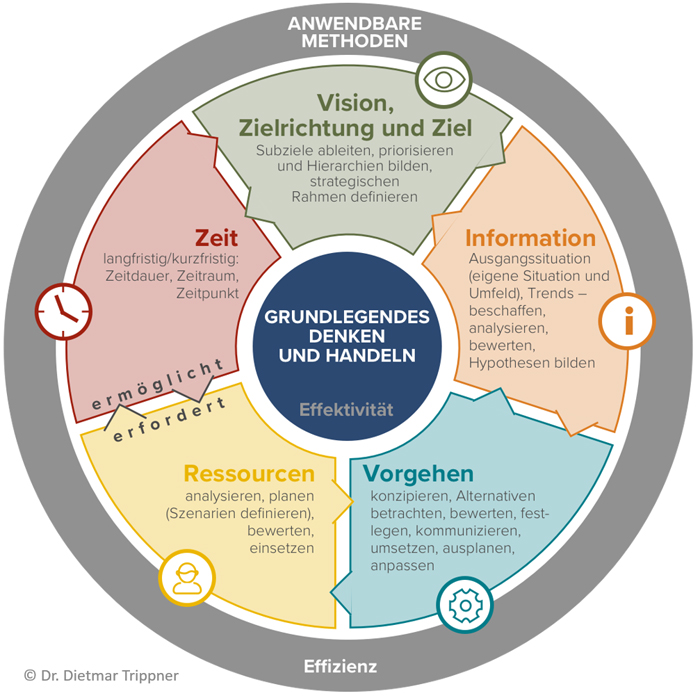 The book deliberately does not aim at a comprehensive academic treatment of the topic of strategy and management. That would have required a textbook with a thousand or more pages and a much more extensive bibliography and would quickly miss the intended target group. Instead, it offers a practical introduction and overview of essential principles and a selection of common methods to all interested parties who are looking for a guide to personal success strategy and strategy work in the company. Trippner provides an interesting, quick to the point, but at the same time well-founded way of writing, which is supported by an appealing graphic design and already invites the reader to stay and read more closely when browsing through the book for the first time.
After reading it, aspiring professionals, team leaders, project managers, and department heads will be able to participate more competently in corporate strategy discussions and contribute, evaluate, and propagate their own ideas to that end. And that is quite a lot.