For Aras, a year that has brought a lot of news has come to an end. . New investors have taken over the majority of shares and new managers have joined the team of directors. Is it possible that Aras will become a new heavyweight in the PLM industry in the coming years? The key points in a nutshell and a conversation with the Vice President for Europe, Stéphane Guignard, are covered in this article.
Aras has been under new leadership since 2021. In October, Roque Martin was appointed CEO, succeeding founder and longtime CEO Peter Schroer, who has transitioned to Aras' Board of Directors. Roque Martin joins Aras from PTC, where he was most recently general manager of the systems and software engineering solutions business unit. Prior to that, he was with IBM. Peter Schroer said of his successor, "Roque has deep experience working with the largest enterprise customers and highly complex use cases – making him ideally suited to further drive Aras' future growth, scalability and role as an industry leader."
That same month, longtime CEO of simulation and computation software provider Ansys, James Cashman, had joined the board of directors at Aras. Of his role, Peter Schroer said, "Jim will play a central role in our expansion. In doing so, we will redefine the value proposition of engineering and manufacturing software for large enterprises in the cloud era."
Those were the most visible changes after investment firm GI Partners joined Aras as a majority owner a few months earlier in April 2021. Travis Pearson, managing director and co-head of private equity at GI Partners and now also a member of Aras' board of directors, said the investment's key objective was to "scale the company for sustainable growth and build a forward-looking team."
Stephane Guignard is vice president responsible for South, Central and Northern Europe. In an interview shortly before Christmas, he provided information about where the Aras journey is headed globally and locally, in an industrial region that – especially in German-speaking countries – is based on the strength and an enormously large number of small and medium- sized companies.
(All images copyright Aras)
Ulrich Sendler: Stéphane, what will change as a result of GI Partners' majority stake and the new management team?
Stéphane Guignard: We have set big goals for ourselves. From being a software provider used by many companies for several data management tasks, we want to become a company that is at the forefront. This requires a change in mindset of the whole team, a different market approach, as well as a new demand on how we offer solutions together with our partners. Particularly in Central Europe, we want to serve large to medium-sized companies more directly than before, especially the upper midmarket in industry. To this end, our marketing and sales teams will be more visible than before.
Ulrich Sendler: Will anything change with regard to the target markets?
Stéphane Guignard: As with our PLM competitors, our main focus for a long time was on the automotive and aerospace industries. However, our platform can serve much larger target markets, which is one reason why GI Partners chose us. We have already started to do this successfully in recent years and will now continue to do so more intensively. Microsoft is one of our important and larger customers. Numerous companies from the service sector, such as banking companies, pharmaceutical companies, medical technology and drug manufacturers, like Dräger or Philip Morris, show that our PLM offering is much broader than just for the discrete manufacturing industry. In addition to its recipes, a vaccine supplier also needs to know exactly what kind of materials and components are used in its plant throughout the entire life cycle. They also must be able to prove at any time that they have precisely complied with all applicable regulations, such as the FDA rules in the USA.
Ulrich Sendler: It was recently announced that Aras is introducing new upgrade cycles with Release 14. Can you explain that to the readers in a little more detail?
Stéphane Guignard: We are offering our customers the opportunity to upgrade to new versions every five weeks starting now. That's the time our developers need to develop, test and integrate new parts of the platform. If customers want to, they can enjoy the latest version just as quickly on a regular basis, starting with version 14. They don't have to. They can also skip two or more upgrades and then go to the then-current release with no problems at all. This applies both to on-site installation, which is still preferred by a majority of our customers, and to the use of Aras Innovator as Software as a Service (SaaS). In terms of releases, there is no difference at all. Except, of course, that they have to ensure themselves that the new version is activated and tested during the on-site installation.
Ulrich Sendler: What effort does such an upgrade mean for the customer?
Stéphane Guignard: The biggest part has always been the testing. Installation is one thing but making sure that all company-specific requirements are met, or are even better than with the previous version, is crucial. This effort is shrinking dramatically today. We have been offering our customers a Test Automation Framework (TAF) for a year now. It enables the modeling of all central tests in each case, on the basis of which an automated upgrade is then possible. The modeling of the tests, which can then be used with any additions or modifications for all future upgrades, can be done by each customer themselves or by our staff. In this way, an upgrade is no longer a construction site that takes many weeks, but can be completed overnight or in one or two days, depending on the scope of the tests. And of course: In the long term, most customers will certainly use our platform in the cloud. Then they won't have anything to do with the upgrade at all. By the way, this change is just as easy. Nothing at all changes for the user in terms of handling the software and the available functionality.
Ulrich Sendler: Does the new version also bring fundamental changes to the architecture of the platform?
Stéphane Guignard: No. The architecture has remained the same. As a basis, there are the core services above the SQL database, which allow the modeling engine to generate the diverse applications. These in turn can be used via any conceivable client from desktop to smartphone. What has changed and makes our platform even more flexible now is that the core services layer have become .NET Core based. For the user, this means no change in the use of the software, but everything is noticeably more performant and easier to deploy including on Linux cloud containers.
Ulrich Sendler: Aras calls Aras Innovator a low-code platform. What is that all about?
Stéphane Guignard: We like to talk about it after it seems to become a fashion among our competition to have and offer the customer a low-code tool to build simple additions to the software. Our platform, on the other hand, has been a low-code platform in that sense from the beginning. If you want to make certain customizations to a function to meet your specific needs, you don't have to be a computer scientist. Anyone who wants to link compliance rules to their data management doesn't need to know a programming language. Aras Innovator is so easy to customize with an integrated editor, dedicated applications can be added as easily as it is possible elsewhere only with an additional low-code tool.
Ulrich Sendler: Can you give a concrete example of this?
Stéphane Guignard: One example would be the rules engine, which introduces the capability to easily implement business behaviors and rules without coding, just through logical rules defined and maintained by administrators that applied to any concepts or objects of an Aras application.
How to visualize with Aras your digital thread configuring without coding display and navigation options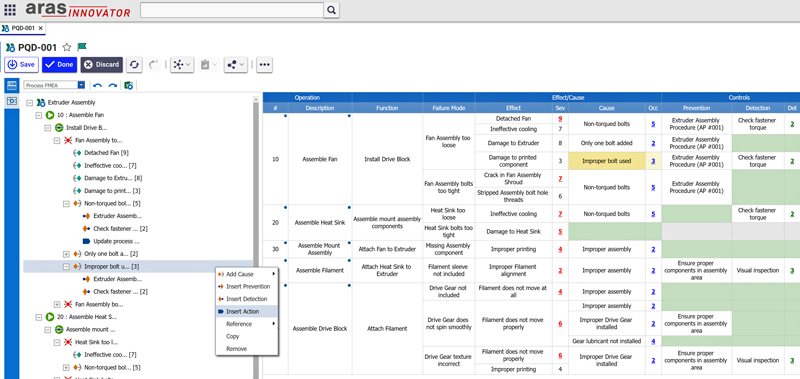 How to interactively build within Aras without coding custom FMEA grids gathering PLM data continuously synched across product or process changes
Ulrich Sendler: And what will the next releases after 14 bring?
Stéphane Guignard: In the next few months, you will see, among other things, an expansion of the customization options I just described. Also, more functionality like the rules engine. In detail, it's in the specific announcements of the new features with each new release. It's moving faster for us than anywhere else, that's for sure.